Introducing the All-New KLO & CO Alpesailer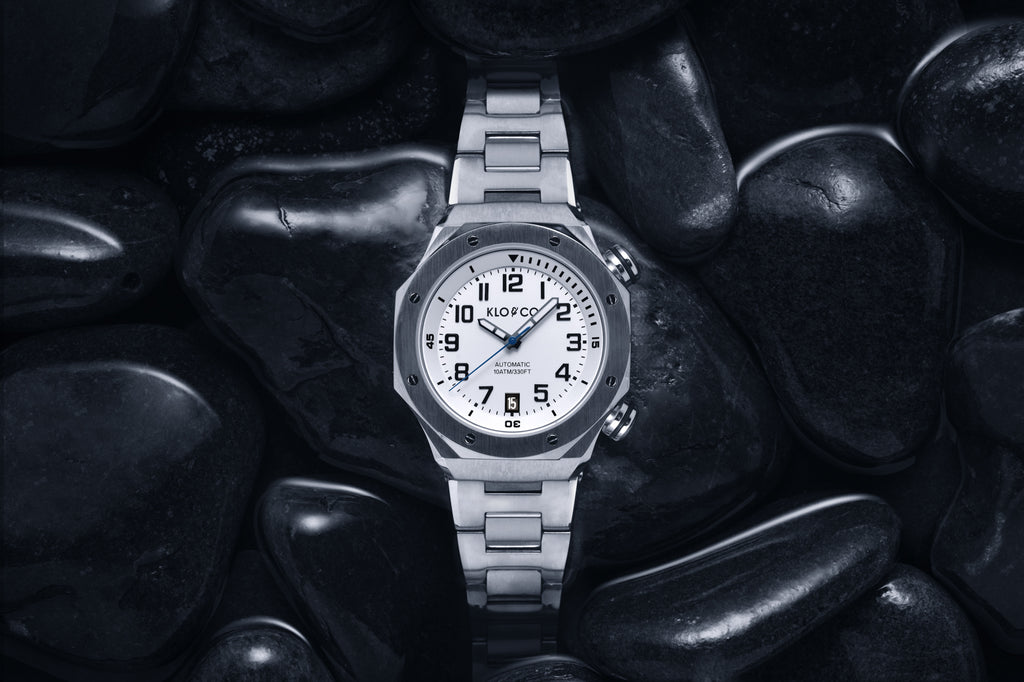 "Inspired by our travel adventures over the Swiss alps, and our affinity for the ocean. An innovative interpretation of a quintessential adventure timepiece, combining a durable waterproof triple-finished stainless steel case, a functional rotating inner bezel, and a high-precision automatic movement with date—the Alpesailer is meant for all-conquering adventures on land, air, and sea."

- Kenn Ong, Co-Founder, KLO & CO
After years of development, KLO & CO is proud to finally unveil the all-new Alpesailer wristwatch.
The Alpesailer is designed with adventure in mind. It is KLO & CO's first waterproof sports watch, built completely from the ground up to be able to reach depths of up to 100 meters / 330 feet. It features KLO & CO's signature Triple-Finished case and bracelet—beveled, polished, and brushed—to give it a luxurious, sophisticated look fit for any occasion. It is also KLO & CO's first automatic watch, featuring the venerable Japanese NH35 movement (Seiko 4R35) with hacking and date, ensuring timing precision and durability for a lifetime of use. Lastly, the KLO & CO Alpesailer is equipped with a functional and practical bi-directional rotating bezel, perfect for timing just about anything. 
Alpes + Sailer 
The name Alpesailer comes from the portmanteau of Alpes, the French word for Europe's most extensive and impressive mountain range system, and Sailer, any of the many types of romantic marine vessels and yachts equipped with sails. The name is chosen to be able to represent the versatility of the waterproof Alpesailer as an all-conquering sports watch fit for any adventure—from high up the alpine mountains, to the tropical sea, and everything else in between.
Triple-Finished Case and Integrated Bracelet
A signature feature in every KLO & CO timepiece, the Alpesailer's expertly crafted Triple-Finished case and integrated bracelet reflects a highly sophisticated and sculpted design.
Employing the same cutting-edge finishing techniques used by other luxury watch brands, KLO & CO is able to create a luxurious, avant-garde aesthetic for its case and bracelet. Three main finishing techniques were used: beveling to create character, polishing to create brilliance, and brushing to create texture. All three combine to create a magnificently finished timepiece that demands attention. 
NH35 Automatic Movement
The KLO & CO Alpesailer is equipped with a Japanese NH35 mechanical self-winding movement. This venerable movement includes a functional date complication as well as a hacking function, which stops the second hand from advancing when setting the time to allow for more precise timekeeping. Developed by Seiko as the 4R35, the NH35's robust design ensures timing precision for a lifetime of use.
Bi-directional Rotating Bezel
True to its form of being an all-around, all-conquering adventure watch, the Alpesailer also features a practical rotating bezel perfect for a myriad of timing applications. It can be used when traveling to mark out a second time zone, or in sports and recreational activities, can be used to monitor elapsed time or as a countdown timer.
Innovating Horology
Consistent with KLO & CO's thrust to Innovate Horology, the Alpesailer is thoughtfully designed to be a masterfully designed, robust adventure watch for all. Starting at only 375 USD, the Alpesailer is well equipped to go head to head with more established watch brands in the same price range and beyond by employing state-of-the-art watchmaking techniques and imbuing it with the same level of finishing and craftsmanship. Indeed, this exciting new watch will appeal to people looking for a high quality, high value timepiece that offers sophisticated and attractive aesthetic, with a robust and serviceable mechanical movement that will last a lifetime.
Discover more the all-new Alpesailer by clicking this link.
Share this